CBD Gummies Dosing Guide: Everything You Need to Know!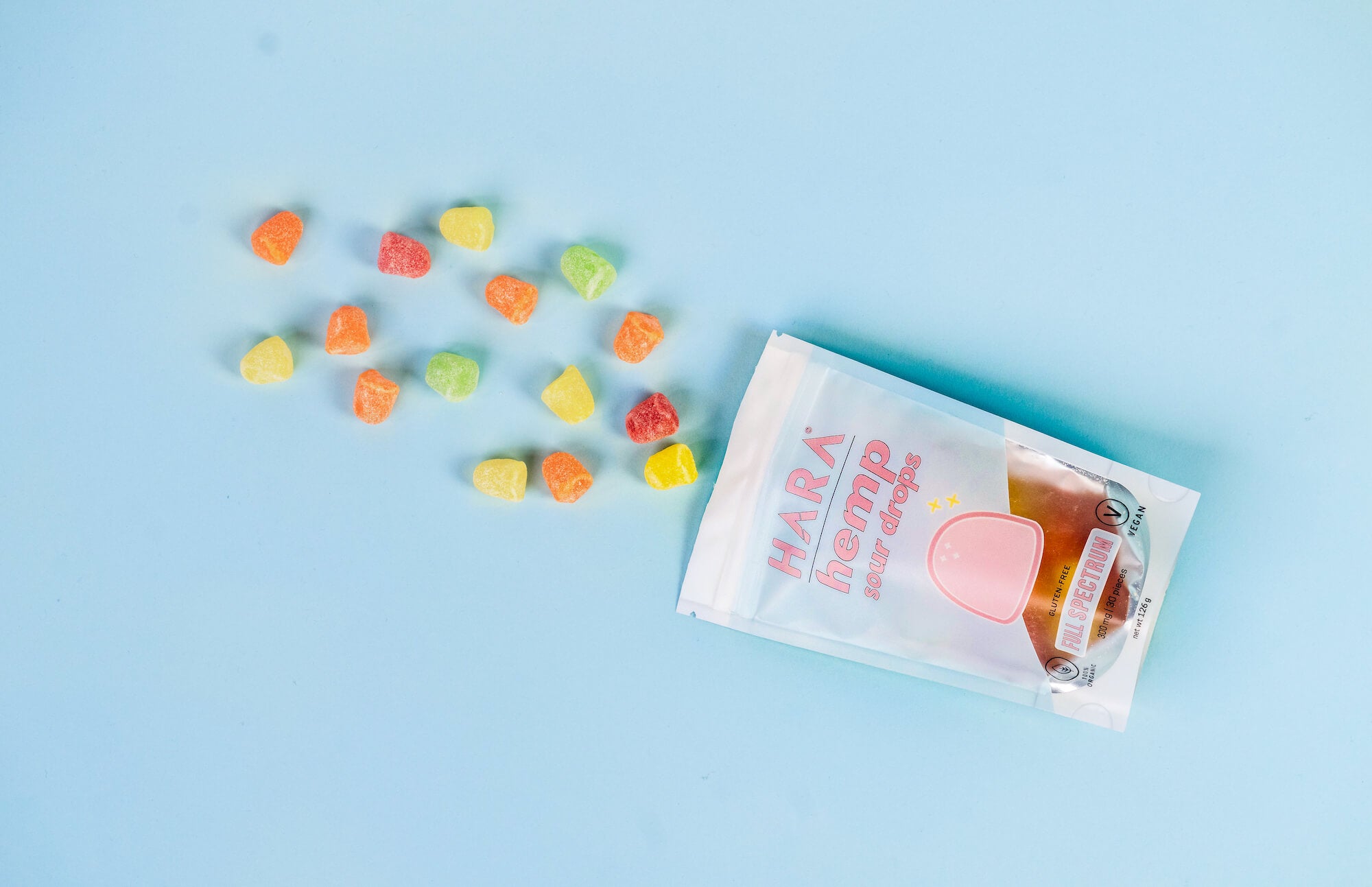 CBD is chalked full of benefits, one of our favorites being its versatility. There are so many different ways for you to get your daily dose; CBD is being infused in foods, drinks, candies, lotions, bath bombs, oils - the options are truly endless. So while you may have figured out how much CBD oil is right for you to get a good night's sleep or to create that optimal sense of calm, you may find yourself wondering how that dosage translates into gummies.
Gummies are a great option to get your daily dose of CBD because they are easy to transport, taste delicious, and are conveniently inconspicuous. While all Hara CBD products are entirely legal and pretty awesome, not every situation is quite suitable for a dropper of a tincture, vape pen, or even a capsule. However, there's nothing more accessible or low profile than popping a CBD gummy in your mouth.
Gummies can be just as potent and versatile as their liquid counterparts. They can be perfect for delivering a sense of calm or post-workout relief. But how do you know how many gummies you should take? 
Figuring out the right dosage for you
Since every Hara CBD package is marked by the amount of CBD it contains, gummy dosages are relatively easy to figure out. All HARA CBD Gummies contain 10mg of CBD and are sold in ten and thirty piece packages.
The most important thing to keep in mind is that there is no one size fits all method for finding the optimal dose when it comes to CBD. The key is finding your "sweet spot dose," which varies from person to person as CBD supports everyone's ECS or endocannabinoid system differently. The ECS or endocannabinoid system is a naturally occurring network of receptors in our bodies that helps regulate our bodies and interacts with cannabinoids. The endocannabinoid system is thought to involve the processes and functions that help regulate sleep, mood, appetite, and memory.  There are so many factors that come into play when determining the appropriate dosage. Some of those factors include 



A Person's Size and Metabolism 
Your body size matters a great deal in taking CBD products because the bigger a person you are, the more CBD you need to make a difference in your comfort level or mood. In addition, your weight says a lot about both your ability to absorb CBD and your metabolism. 
Desired Effect
The difference in the amount of CBD you take will depend greatly on the desired effect you want the gummy to have; think the higher the dose, the stronger the outcome.  
Tolerance
While your metabolism plays a role in your tolerance, the more you take CBD products, the more you build up a natural tolerance to them. So while your first low dose of CBD gummies might have a powerful effect, that same dose might not have the same effect after a year of taking CBD.
Concentration
Always be mindful of the concentration in the gummies. Not all gummies are made with the same amount of CBD, which is measured in milligrams. While all of HARA's gummies are 10 mg per gummy.



Start Slow
We recommend that you start slow when taking CBD gummies (or any CBD product) for the first time. Everyone will react slightly differently to CBD. While side effects are rare, and it's hard to take too much, you will want to gently ease yourself into the experience to ensure that it has the desired effect.
Generally, we recommend that you start with a single 10 mg gummy and see how it affects you. Then, your body can acclimate to the dose, and you can decide if it's sufficient or if you need more. After taking the 10mg dose for several days, we recommend bumping it up by one half or one more gummy and then, again, reevaluating. We have a helpful chart at the bottom of this article.




Is it possible to eat too many CBD gummies?
Too much of anything, even if it's a good thing, is still too much. 
Though research suggests that CBD has very few side effects, and even those are considered uncommon, there is always a risk of taking too much. Don't worry: they're non-toxic. However, they do have strength and potency to them that you might not be ready for. 
One indirect yet potential pitfall of these tasty little Gummies is that they look and taste like candy. Still, they should definitely not be popped into the mouth as quickly and often as standard gummy candy. And should most definitely be kept out of reach of children and pets.
There is no known lethal dose of CBD. Studies have been done with patients taking as much as 750mg per day, but this is very common and used in extreme circumstances. 



CBD Dosage Chart for Gummies
| | | | |
| --- | --- | --- | --- |
| Weight Group | Recommend Dose for Mild Effects | Recommended Dose for Moderate Effects | Recommended Dose for Strong Effects |
| Light (below 130 lbs.) | 11mg or less per day | 12 to 14mg per day | 15 to 17mg per day |
| Medium (between 130 and 230 lbs) | 18mg or less per day | 19 to 23mg per day | 24 to 27mg per day |
| Heavy (above 230 lbs) | 23mg or less per day | 24 to 30mg per day | 31 to 45mg per day |
Are you ready to try CBD gummies?
Shop our CBD gummies